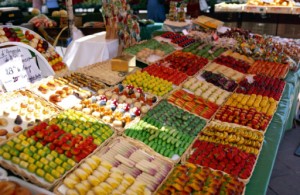 When thinking about fluoride exposure and its sources, most people think about fluoride in the water supply. But many do not realize that fluoride is also present in the food supply since produce is sprayed with pesticides that contain fluoride.
Thyroid conditions make it difficult for the body to produce and regulate a normal amount of very important hormones. This causes a ripple effect that may throw major organs and body systems out of sync. In terms of oral health, the side effects of a thyroid condition may cause serious changes in both the function and health of the tongue, teeth, and gums.
It has been estimated that nearly 27 million Americans suffer with a thyroid condition that negatively impacts overall health. Such conditions may cause unexpected weight gain, fatigue, hair loss, depression, or dozens of other side effects. A reported 50% of individuals who have a thyroid condition are undiagnosed, creating the concern for greater awareness for thyroid health, function, and disease prevention.
To promote awareness for this growing health issue, Assure A Smile has created this special health report to provide an overview of what causes thyroid disorders as well as the most effective ways to keep the thyroid gland healthy.